Kemer Area Guide
Kemer is an upmarket seaside resort on Turkey's southern Mediterranean coast in the Antalya region, with charming cobbled streets and classy boutiques. Forming part of the Turkish Riviera, it has an exclusive marina and small beach. Kemer is fringed by the pine forests of the Olympos Beydağları National Park, where you can see cable cars in the distance toing and froing to the top of the Tahtalı Mountain. There is lots of antiquity to explore in the area, including the nearby Greco-Roman ruins of Phaselis plus the perpetual gas fires which shoot out of the ground in Yanartaş. Kemer is a great location for really any age group with lots of fun packed things to do.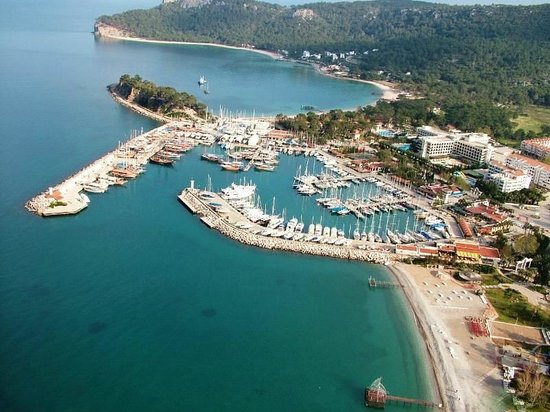 Kemer Beaches Turkey 
The beautiful seaside resort of Kemer is famous for its breathtaking landscapes and 4.2 km stretch of stunning beaches. There is a good choice of bays where you can spend a day at, including sandy and pebbled ones depending on which you prefer. And there are a number of Blue Flag beaches too, which means clear, quality water and powder fine sand. Many of Kemer's beaches offer a variety of water sports activities, such as jet-biking, scuba diving, parasailing, snorkeling, and much more.
Moonlight Beach Park, Kemer
Right beside Kemer Marina you will find Moonlight Bay Beach Park. The beach is relatively small, mixing fine sand with pebbles near the shoreline, but there are lots of facilities including beach bars, cafes, a children's play ground, changing rooms, clean toilets and showers. And plenty of sun beds with umbrellas offering fantastic views. The location is excellent and you can walk into the centre of Kemer from the beach in just 4 minutes!
Cirali Beach, Antalya 
A couple of coves down from Kemer is Cirali Beach near to the famous Olmpos ruins. This is a long beach and a mix of sand and pebbles. Its clean and tidy too, no doubt because it's a popular nesting area for turtles. Crystal clear waters that are fairly calm make it ideal for swimming, with plenty of sunbeds available and a few restaurants too. This is not a commercialized beach nor does it get ridiculously busy, so ideal if you are looking for somewhere to take in the sun, relax, and admire the views.
Adrasan Beach, Antalya 
Located in the tranquil Adrasan Bay, this is a lovely natural beach in scenic surroundings and without hordes of tourists. Fringing Adrasan beach are a few bungalows and pensions plus some chilled out bars and lounges with wonderful sea vistas. Stopping here for the day or afternoon is perfect if you are looking to get away from it and just relax. Its around a 45 minutes drive away from Kemer but a scenic drive that will take you through pine forests with snatchets of coastal views.Sea view apartments for sale Kemer, Turkey
Shopping in Kemer Turkey 
Kemer is a small sized, upmarket town and its easy to navigate the main shopping streets. There are lots and lots of shops including a number of boutiques and fashion outlets, plus a couple of supermarkets for stocking up on essentials. Kemer town is spotlessly clean too and there are some excellent sidewalk cafes where you can drop after your shop.