Bodrum Area Guide
The Bodrum Peninsula is located on Turkey's south-west coastline and is a port city with ancient origins in the province of Mugla. Bodrum is popular with sailors keen to explore the secret coves and beaches of its 174km coastline, or one of the 32 islands dotted around its waters.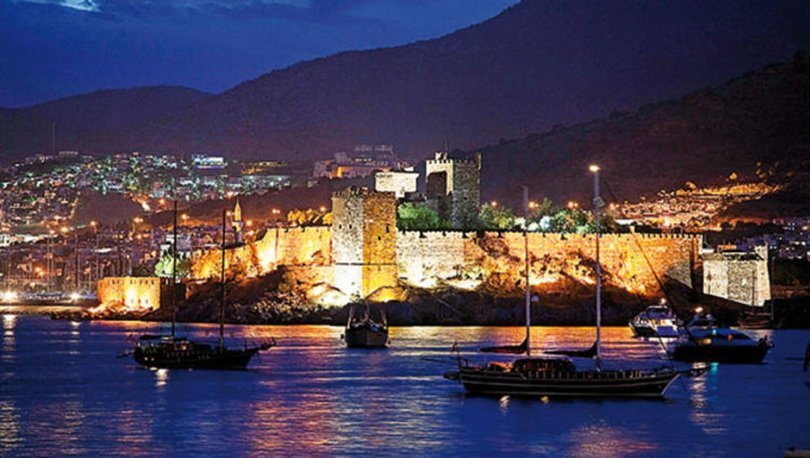 In antiquity, Bodrum was known as Halicarnassus a Greek city whose inhabitants probably worshipped Poseidon, the Greek God of the sea. The city later fell to the Persians and gained much prominence under its ruler Mausolus (the Mausoleum of Mausolus was known as one of the seven wonders of the ancient world), then in 334 BC, was conquered by Alexander the Great.
Bodrum's famous castle was built in the 1400s as a defensive fortification by the crusaders and later served as an Ottoman prison and even a public bath-house.
First mentioned in antiquity by Homer in the Odyssey when it was known as Halicarnassus, Bodrum has attracted poets, singers, artists, statesmen and women since ancient times when Anthony and Cleopatra used to stop off on the way to Rome. Modern day, the peninsula has hosted a host of stars from Hollywood icons like Tom Hanks and Nicole Kidman to rock stars such as Mick Jagger and Sting.
Bodrum enjoys a hot Mediterranean climate with average summer temperatures reaching 34c and average sunshine of 337 hours in July. The winters are mild with an average temperature of 15c.
Bodrum has an impressive and modern infrastructure too, and is home to some of Turkey's some top hospitals. It also has a selection of excellent private international schools, plus three large shopping malls equipped with entertainment centres – all selling the latest fashion brands. Bodrum also has marinas, golf courses and tennis clubs and a superb transportation system with high quality roads.
The Milas-Bodrum international airport is just 35km away and is a 36 minute drive down the modern D330 highway. A new international terminal was opened in 2012 with a capacity to handle over 5 million passengers per annum.
Cosmopolitan and trendy Bodrum is suitable for all year round living, and is the favoured place where wealthy Turks choose to have their second homes. With a diverse and friendly ex-pat community that includes Northern Europeans, the Gulf states and even further afield to people from the United States.
Bodrum Beaches 
The Bodrum Peninsula has some fabulous beaches with lots on offer including thrills and spills watersports, beautiful, natural coves with clean sands and crystal clear waters, to sunbathing and just taking in the stunning vistas as you recline on a sunbed and wonder whether its too early to have a cocktail!
Bitez Beach Bodrum 
Just 9km from Bodrum is the gorgeous Bitez Bay with a long, sandy beach fitted out with padded sun loungers, parasols and even hammocks. Just behind the beach are a number of restaurants, cafes and bars offering stunning sea vistas, cocktails, soft drinks and delicious meals.
Bitez Bay beach has shallow, blue Mediterranean waters that are warm and popular with families to paddle in and, also for the more action-minded, to enjoy some exhilarating water sports. A wide choice of activities includes jet skis, being pulled along on a banana boat and even parasailing. You can also learn to wind surf in the morning on the tranquil waters or join the advanced group and windsurf along the more livelier and vibrant waves in the cool afternoon breeze.
Yahsi Beach Bodrum
Yahsi beach has the reputation as being one of the best beaches in Turkey with clean, very clear waters and lots of nice restaurants and cafes. The road behind the beach is pedestrianized so it's ideal for families. There are lots of sunbeds right up to the sea's edge and these are free providing you buy a snack or drink from one of the restaurants.
Yahsi beach is located on Ortakent, which is 9.5km from Bodrum town centre and around an 18 minute drive. It is on the dolmbus route so easy to get to. 
Gumbet beach Bodrum
Gumbet beach has a gently curving kilometre of soft, sloping golden sand and has a reputation as being a family-friendly beach. The beach has a selection of bars, restaurants and cafes with sun loungers and umbrellas readily available for some much needed shade. Kids can happily splash about in the calm shallow, blue waters while teens can enjoy banana-boat rides and even have a go at waterskiing. Gumbet is 4.6km from Bodrum and is accessible by dolmbus.
Shopping In Bodrum 
Bodrum has lots of shopping options including an indoor market located by the bus station. Held twice a week, on Tuesdays is everything but food, so expect to find clothing, leather handbags, purses, bedding, genuine "fake" designer wear, household products and so on. On Fridays the market sells a range of fresh fruit and vegetables, meats and cheeses.
Old Town 
Bodrum's old town has a charming pedestrianized area near to Bodrum castle with cobbled streets, featuring a selection of upmarket boutiques and stalls selling a variety of good. Here can be found the latest fashions, leather ware, souvenirs, art and crafts, silks and fabrics. The old town area also has a good choice of restaurants, bars and cafes and is well served with a number of ATMs from different banks. 
Midtown Shopping Mall 
The contemporary Midtown Shopping Mall is located in Ortakent just 18km from Bodrum town centre and around an 18 minute drive down the D330 highway.
This has everything you would expect a modern shopping mall with a variety of shops selling the top international brands – including a Marks and Spencer – and there is even a Decathlon sports shop ideal for swim wear and swimming goggles! There are super markets – so you can stock up on essentials – and a food court which also has a Starbucs, whilst the entertainment centre includes a cinema plus play area for kids.
The Midtown Shopping Mall is also on the Metro bus route too. 
Milta Marina Shopping Centre, Bodrum 
The Milta Marina Shopping Centre is a small, upmarket mall located next to Bodrum Marina. The mall features an assortment of designer boutiques in air conditioned bliss with a number of cafes and restaurants nearby. Situated just to the west of Bodrum Castle it is just a pleasant few minutes walk from the old town centre.
Bodrum Nightlife 
Bodrum nightlife has many sophisticated options from the numerous seafront bars down on the Cumhuriyet Caddesi, which is the heart of the town's nightlife, to sea view restaurants and cafes plus a number of clubs where you can dance the night away.
Kuba Bar Bodrum
The Kuba Bar, Bodrum is a club that pulses with latest vibes and has guest djs. There is a restaurant too with an elevated terrace from where you can watch the lights come on across the waterfront and castle just as the sun sets
Annalivia Restaurant Gumbet 
Located in Gumbet which is just 4.6km from Bodrum town centre, this established and charming restaurant has beautiful views out over the sea and is a great place to watch the sunset. This Mediterranean restaurant also serves up steaks, has a wonderful atmosphere plus friendly service.Apartments for sale Bodrum
La Pasion Restaurant Bodrum town 
Situated in a narrow street in Bodrum's atmospheric old town quarter this restaurant offers a broad selection of international dishes and has an excellent reputation for serving up delicious Spanish tapas. Local dishes include roasted goose over bulgur pilav with nuts and dried apricots, a sure delight for food lovers everywhere!
Café Cafen Bodrum
Café Cafen Bodrum is well known for its breakfasts, so if you have danced the night and early morning away and are in need of some sustenance then head towards the marina, and Café Calen is opposite the main entrance.
Bodrum Attractions 
Bodrum's rich, historical past means there's lots of antiquity to see that will satisfy even the most ardent history buffs! 
Castle of St. Peter Bodrum City
Also known as Bodrum Castle this was built form 1402 onwards by the knights of St. John and is the most prominent feature of Bodrum. The castle has a unique museum of underwater archaeology and has a chapel housing artifacts from the Bronze Age plus the Italian Tower which houses a collection of ancient coins and jewelry. You can also view 2 ancient, reconstructed ship wrecks and then there is the panoramic view from the top which is not to be missed!
Bodrum Amphitheater 
Located on the road to Gumbet and overlooking the town with views out over the sea and castle, the Bodrum Amphitheater was built sometime during the Hellenistic age with construction finished off by the Romans. The amphitheater is still used today to host summer concerts and had an estimated seating capacity of approximately 13,000. If you look closely you will see that some of the seats at the theatre are inscribed with names and it is speculated that these may have been wealthy citizens who helped to finance the amphitheater's construction.
The Tarihi Bardakci Hamam
Opened in 1749 this is the oldest Turkish bath in Bodrum. This traditional hamman is non-touristy, no thrills, moderately priced and very welcoming and friendly.
Patrons normally start with a sauna/steam before being led to a side room for a full body scrub exfoliation. This deep scrub massage is done to remove old skin and to ease tight muscles. There are a variety of treatments on offer and you should allow 1.5 to 2 hours for the experience.
The Most Sought After Districts In Bodrum
Bodrum is a favoured place for holiday homes due to its sloping hills, mountainous landscape and beautiful coastline, the area has unsurpassable sea vistas and rich character shaped by antiquity. Bodrum real estate has attracted famous International architects such as New York based Richard Meier and Sweden's Thomas Sandler, who have raised the standard for cutting edge, innovative designs, and inspired Turkish designers and architects such as Emre Arolat to put their stamp on this fabulous peninsula.
Bodrum Town Centre 
If you want to be right on the button for the town's buzzing cafes, bars, restaurants, clubs, shops and marina plus the stunning sea vistas then this is the place to be! Modern living in Bodrum town centre complete with harbour views is affordable, with 2 bed apartments available from around £90,000. Kumbahce is a neighbor hood located right in the town centre and much sought after.
Bodrum international airport is just a 35 minute drive away, with a great selection of nearby local beaches on the dolmbus routes.Apartments for sale Bodrum town centre
Turgutreis, Bodrum
Turgutreis is the second largest town on the Bodrum Peninsula, situated just 20km from Bodrum town centre and an easy 31 minute drive down the modern D330 highway. Popular as a holiday destination, this seaside resort has over 5km of sandy beaches with waterfront cafes and restaurants. The town also has a marina with day trips to the nearby Greek town of Kos. The area is also popular with sailors and boasts 14 islets to explore.
Adabuku, Bodrum
Adabuku is a traditional town on the Bodrum peninsula with a bazaar plus supermarket and some restaurants. The surrounding area is tranquil and beautifully landscaped with a nearby golf course too. Bodrum International airport can be reached in just 15 minutes by car.
Yalikavak, Bodrum
Yalikavak is a seaside town on the Bodrum Peninsula 18km from Bodrum town centre and around a 30 minute drive. Yalikavak is well known for its sandy beaches, marina and rock caves plus lovely, old stone windmills on its hills. The town used to be Bodrum's favoured area for sponge diving, but is now known as a premier tourism destination with some stunning holiday homes. Yalikavak has a weekly market and busy town centre with lots of shops and restaurants.Sea view apartments for sale Yalikavak Bodrum
Ortakent, Bodrum
Ortakent is the midway point between Bodrum and Turgutreis with Ortaknet beach 3km form the town centre and Bodrum town an accessible 10km away on the dolmbus route. Ortakent town has shops, so you can stock up on essentials, plus cafes, restaurants and a weekly market. Just outside the town are tangerine orchards giving the air a pleasant scent.Villas for sale Bitez Bodrum
Gundogan, Bodrum
Situated between Yalikavak and Turkbuku on the Bodrum Peninsula, Gundogan is 23km from Bodrum town centre and is a charming, active little fishing town surrounded by lush, pine clad hills, olive and citrus groves.
A sandy beach follows the curve of the bay, with sunbathing jetties popular in the summer months, and make for an ideal location for watching the small boats and gullets drifting lazily around the blue watered bay.
Nightlife in Gundogan is fairly laid back, with a typical evening more likely to be spent at one of the restaurants or cafes that circle the bay, enjoying an evening meal as the sun sets on the beautiful vista in front of you.Apartments for sale Gundogan Bodrum
Kizilagac, Bodrum
Located just 5km from Bodrum town centre, Kizilagac is a beautiful, rural area popular for those looking to be surrounded by nature.
Bogazici, Bodrum
Bogazici is a tiny fishing village on the Bodrum Peninsula with some lovely seaside dining options available. The village centre has a new supermarket plus some shops and restaurants with a weekly market. Just 12 km from Bodrum town centre it is served by the dombus and easy to get to.
Gumusluk, Bodrum 
Gumusluk, Bodrum is a small village famous for its fresh fish restaurants with lovely views out over Gumusluk Bay. Gumusluk town centre has some shops and restaurants plus an artisan market near to the harbour.
The Beach at Gumusluk is narrow and lined with pensions, with the sunbeds that populate it during the day are replaced by tables and chairs, so you can enjoy sunset views of the harbour situated Rabbit Island, over a delicious meal washed down with a glass for 2 of wine! Bodrum town is 23km away and served by the dolmbus.Apartments for sale Gumusluk Bodrum
Kadikalesi, Bodrum
Kadıkalesi is a lovely seaside resort on the Bodrum Peninsula located just north of Turgutreis and offers an authentic slice of Turkish life. Kadikalesi is off the tourist track and offers peace and tranquility amidst delightful, natural surroundings. There is a narrow, sandy beach plus village centre with some shops, whilst the harbour has some excellent sea food restaurants.
Turkbuku Bodrum 
The small and stunning Paradise bay of Turkbuku is around an hours drive from Bodrum town centre. It has a lovely, sandy beach and is recognized as one of Bodrum's most sought after districts. Here you will find some of Bodrum's most prestigious hotels and upmarket restaurants, plus some trendy beach clubs that attract sophisticated clientele. The area around Turkbuku is alive with lush, Bougainvillea bushes with beautiful views out over the bay. And Bodrum town centre is just 13 km away.
Yaliciftlik, Bodrum
Situated inland on the Bodrum Peninsula, Yaliciftlik's rural location attracts those who are looking for holiday homes or permanent living in natural, beautiful surroundings. Yaliciftlik has lots of fig trees and is very near to the coast and around 30km from Bodrum town. The centre has a traditional market with shops selling local produce.Villas for sale Yaliciftlik, Bodrum
Konacik, Bodrum
Ideally located between Bodrum town centre and Bitez, Konacik has good amenities and is home to the Osasis Shopping Center. It is just 4km from Bodrum and on all the main dolmbus routes.Villas for sale Konacik Bodrum
Gumbet, Bodrum
Gumbet is probably Bodrum's most liveliest beach resorts and is a popular tourist destination just 3km from Bodrum town centre. It has kilometers of golden sand, loads of night clubs, restaurants, cafes and bars and is suitable for those who liker to party!
Yakakoy, Bodrum
Yakakoy is a peaceful, traditional Turkish village near to Ortakent, Yalikavak and Bodrum with easy access to amenities such as supermarkets, shops and restaurants. It is also on the main dolmbus routes. Yakakoy is suitable for those looking to be surrounded by nature.
Torba Bodrum 
Located just 6km from Bodrum town centre, this charming fishing village has a lovely, unspoilt bay and beach with the village centre containing a small array of shops and restaurants.Villas for sale Torba