Trabzon City Area Guide
Trabzon is a large city on the Black Sea coast of northeast Turkey with the Pontic Mountains providing a natural and stunning backdrop. Trabzon has a large harbour, making it a key player for Turkeys imports and exports. There is also a first rate transportation infrastructure with an international airport and a major road network.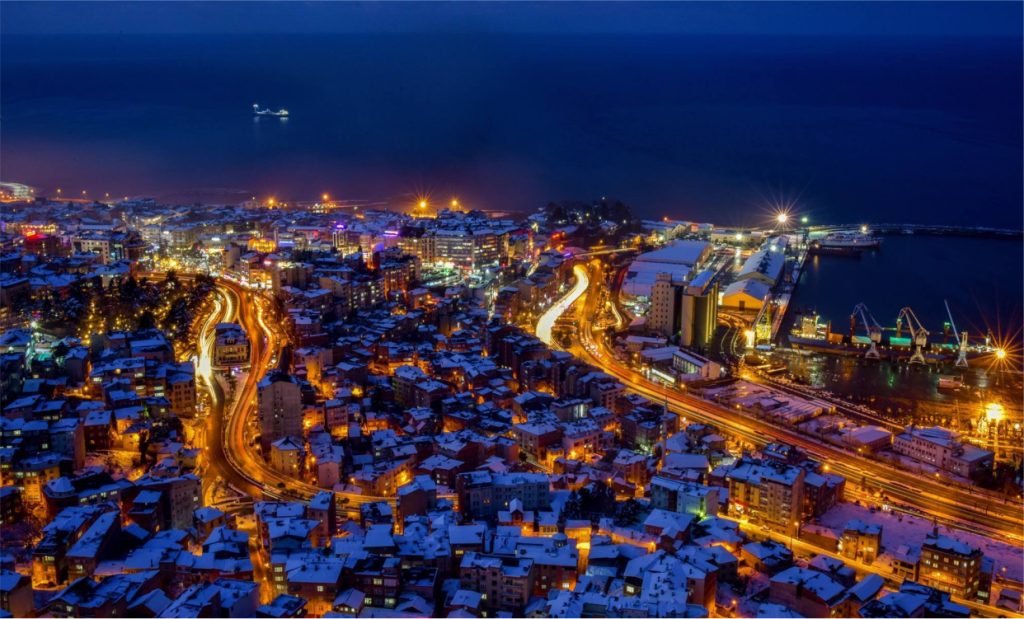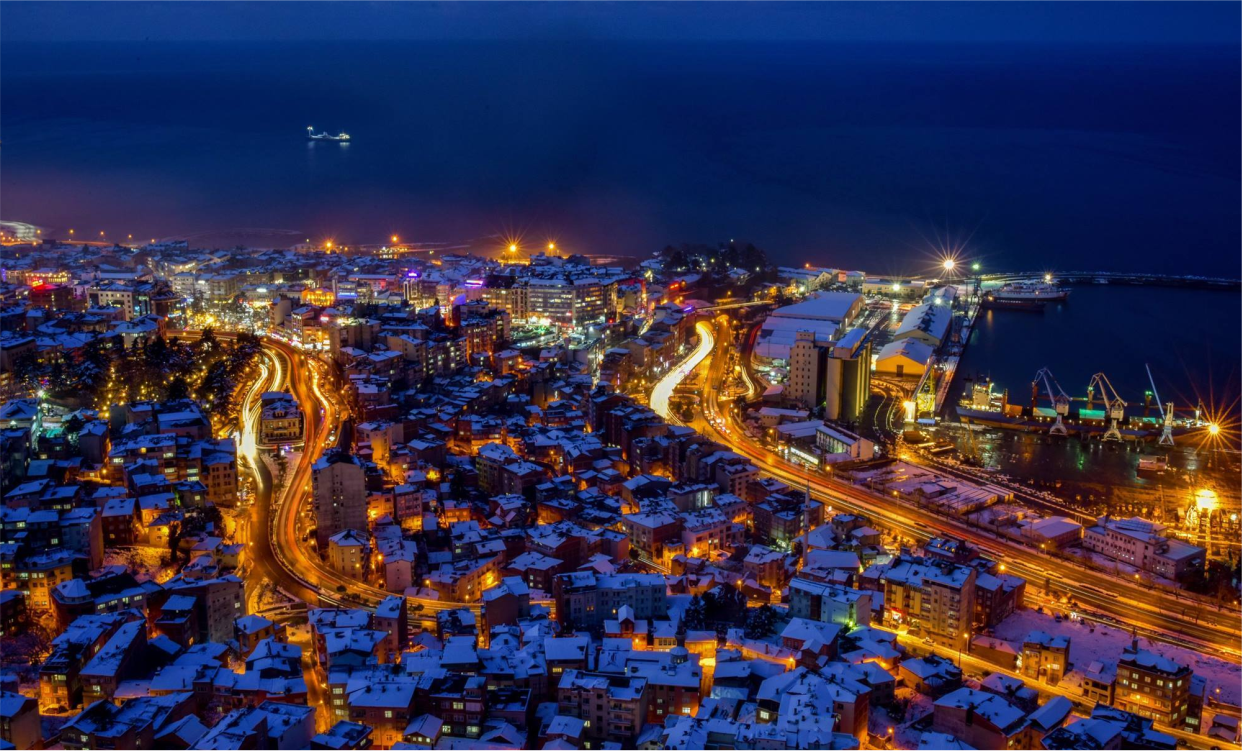 The history of Trabzon is a rich one, with the city Founded by Greek traders from Miletus in the 8th century BC, Trabzon has changed hands down the years between the Cimmerians, Hellenes, Byzantines to name but a few. Strategically situated on the historical Silk Road, Trabzon soon became a melting pot of religions, languages and culture for centuries, not to mention a trading hub thanks to its close proximity to Persia in the southeast, and the Caucasus to the northeast.
Modern Trabzon has some lovely contrasts with medieval mosques and churches mixing with new high-rise residential towers and the remains of Byzantine walls. In terms industry Trabzon is mainly agricultural based, with a number of tea and hazelnut-processing facilities plus fısh canning factories. Other manufactured products in Trabzon include cement, medical supplies and items made using gold or silver.
The city's buzzing social life centres on Atatürk Alanı- also known as Meydan –  a beautiful, tree-shaded square surrounded by leafy tea gardens, restaurants and patisseries.
Residents of Trabzon have a full range of excellent amenities to enjoy including a bazaar district, sports park, several museums, shopping malls and – for those who like culture – quite few sites of antiquity.
The climate in Trabzon is more mild than Turkey's Mediterranean coastal region which is why the area is so lush and green, with vibrant forests set amidst breath-taking scenery.
Trabzon is attracting many Arabs who see this conservative city as the idea place to purchase a holiday home or an investment property.Luxury property for sale Trabzon
Trabzon Beaches 
There is a small, sandy beach right in front of the Novotel in Trabzon. Trabzon also has access to a number of beaches on the Black Sea.
Çaka Plaji Beach
Head west on the E70 from Trabzon toward Ordu and then onto Yason Burnu (Cape Jason) and you will experience some of the Black Sea's most breathtaking vistas. Think California's Highway 1, with twists and turns, beach coves, and verdant cliffs striking out to the water's edge.
Hidden along this stretch of road is the stunning Çaka Plaji beach. The water is crystal clear and laps along a sandy beach that stretches into the distance and is surrounded by cliffs on each side. There are a few restaurants too, from which you can enjoy spectacular sunsets.
It's a approximately a 2.5 hour drive to reach Çaka Plaji beach from Trabzon but well worth it!Sea view apartments for sale Trabzon
Trabzon City Attractions 
Sumela Monastery 
This Greek Orthodox Monastery of the Virgin Mary, now known as Sumela Monastery, is one of Trabzon's star attractions. The monastery seems to be only just clinging on to the steep, rocky cliff it is attached to, 3900 feet above evergreen forests.
Sumela was built in the 4th century AD and then abandoned in 1923 when Turkey became a republic. Once inside the church you will see many colourful frescoes depicting the Virgin Mary to biblical scenes like the Last Judgement.
The monastery is located in the Altındere Valley National Park, where you can also find waterfalls and a lookout point, with excellent views of the monastery suspended high up on the cliff.
From Trabzon to Sumela it takes around 60 minutes, and both the metro plus dolmus run regular buses on this route.
Trabzon uzungol ; is one of the great nature beauty , should be visited in Trabzon .
Bostepe
Located around 3 km from Trabzon city center, Bostepe's hill top locations offers a panoromic of Trabzon and the Black Sea. There are many cafes and restaurants from which to enjoy a cup of traditional Turkish coffee, and admire the stunning vistas. Bostepe is on the main bus routes and easy to get to for a minimal fare.New build apartments for sale Trabzon
Trabzon Museum 
The Trabzon Museum, also known as The Kostaki Mansion, was built for a Greek banker in the Ottoman Black Sea style, with a claim to fame in that it briefly hosted Atatürk in 1924. Here, its all about the rococo interiors, with ornate painted ceilings and original furnishings, whilst the first floor holds an eclectic collection of Ottoman artefacts. In the basement can be found some significant ancient pieces, including a flattened bronze statue of Hermes which was unearthed at Tabakhane in 1997, plus a number of coins and jewelry from the Roman, Byzantine and Comnenos periods.
Trabzon Castle
Also known as the Walls of Trabzon, these are a series of defensive walls surrounding the old town of the city of Trabzon. The walls divided Trabzon into 3 sections, no doubt as this made it easier to defend and harder to attack. On the upper section was a citadel, with construction estimated to have taken place around 2000 BC. Successive civilizations made modifications, including the Romans, who constructed an aqueduct to carry water to the highest parts. For those into their history this is a must see with good views from the top.
Atatürk Mansion Museum, Trabzon
Located in the tree-lined suburb of Soǧuksu, around 5km southwest of Atatürk Alanı, this three-storey, brilliant white late-19th-century mansion has excellent vistas and beautiful, immaculately maintained gardens. Originally built for a wealthy banking family in the Black Sea style, it was bequeathed to Atatürk in 1924, and where he stayed on numerous occasions.Villas for sale Trabzon
Shopping in Trabzon City 
One of the reasons that Trabzon is popular as a place to have a holiday home is due to its excellent range of facilities, including a superb choice of shops. 
Forum Trabzon Shopping Centre 
The Forum Shopping Centre is the biggest shopping mall in Trabzon and is very near to the sea (and from the upper floor there is a wonderful coastal vista) with lots of parking spaces available.
The shopping mall is large and has almost everything including clothes, featuring international brands and Turkish brands, shops selling a full of cosmetics, shoes and trainers, electronics and home alliances, books plus a food court. The food court has local and international cuisines, coffee shops plus some restaurants, which offer outdoor seating and dining. There is also a Migros supermarket so you can stock up on essentials.
Entertainment facilities include an ice rink, bowling centre, multi-screen cinema plus a play area for kids. And one of the best things about the Trabzon Forum Shopping Centre are the prices, which are much lower in comparison with other European cities.
Trabzon Cevahir Outlet 
Whilst not as large or grand as the Trabzon Shopping Forum, Cevahir does have a number of factory outlets inside with cheap prices selling a good range of shoes and clothes. There is also a supermarket and a Play Land for kids. It also has a small food court with good views and is very near to the Novotel on the sea front. Inside are ATM machines from a variety of banks.
Varlibas Atapark Shopping Center 
This is small mall right in the centre of the city. It has a Magic World for kids with bumper cars and a theater plus shops selling mainly Turkish branded clothes.
Kunduracilar Street And The Bazaar District
Kunduracilar Street is a long a pedestrianized road filled with all manner of retail opportunities for those who like to shop! And if you follow the road west you will arrive at narrow lanes of the Çarşı quarter, the Bazaar District. Here you can see 3 restored caravanserai, including the Bedesten, which now serves as an arts and crafts centre.
The covered bazaar- a restored 16th century market – has everything you would expect from a full range of quality, Turkish leather goods and local brands, to Turkish carpets, watches, electronics and knock offs of international brands. The cobbled streets with wisps of fragrant smoke amongst the chatter of excited voices, and the bustle of the crowd, create an authentic atmosphere.Apartments for sale Trabzon
Trabzon City Nightlife 
The high number of students in Trabzon means there is a wide choice of music venues compared to other Turkish cities. The conservative nature of Trabzon means there are only a handful of bars that serve alcohol in the city centre.
Kofteci Ali 
This is where the locals eat and serves up delicious Koftes. Located on the Adnan Kahveci Bulv it is centrally located and easy to get to.
Barikat Cafe Bar
This has an outside area on the roof with great views with live music featuring jazz and blues bands. A good range of local beers too.
The Big Table Café
An upmarket venue with great food that serves alcoholic drinks and also has live music.
The Most Sought After Areas in Trabzon City 
Pelitli Trabzon 
Pelitli is a coastal town situated to the east of the airport and within easy distance of Trabzon city centre and amenities. It is ideal for permanent living due to its breathtaking scenery from the sparkling seas to lakes. It has 3 shopping centres and excellent transportation links.
There are a number of new build apartment complexes too in Pelitli, with first rate facilities including swimming pools and landscaped gardens available at bargain prices.New Build Trabzon Apartments for Sale
Trabzon City Centre 
Central Trabzon is outstanding as a residential area due to its full range of facilities from shopping malls to museums, parks, restaurants and cafesApartments for sale Trabzon Centre
Omra, Kaşüstü 
Yomra is one of Trabzon's most upmarket areas and offers fabulous sea views. It is close to range of amenities and has some of the most sought after real estate in Trabzon.
Ortahisar, Trabzon
Ortahisar is another sought after residential area in Trabzon with an excellent infrastructure, close proximity to the airport and sea.
There are a number of new, high quality residential apartment complexes that are close to the market, university, park, bank, and shopping mall whilst Trabzon city centre is just 7km away and accessible by metro and dolmbus.