Belek is a super glamorous, high quality resort located just 31km from Antalya city on the sun-drenched Turkish Riviera. Belek is known for its immaculate championship standard golf courses, its picture postcard white, powder-soft sandy beaches, and luxury thermal spas. In that order!
Nearby antiquity includes the Roman amphitheater at Aspendos and the ancient city of Perge's colonnaded streets. Belek is also home to a blue flag standard beach, whilst nearby pine forests are filled with exotic birds and thus popular with bird watchers.
Antalya airport is just a 25 minute drive away down the modern D400 highway.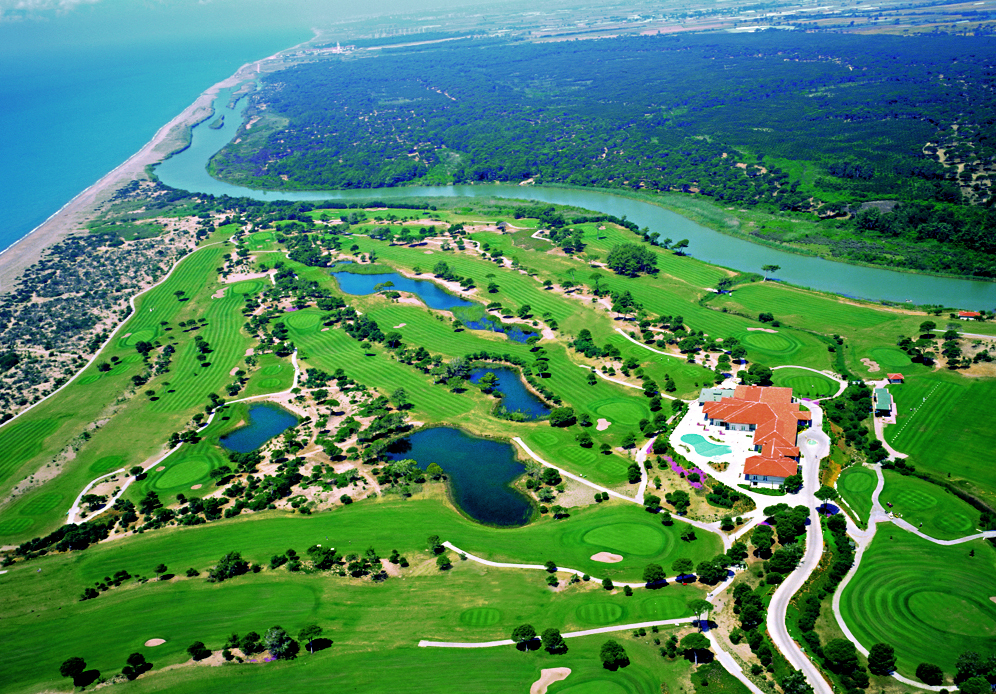 Belek Golf
Belek is a golfer's paradise and Turkey's leading golfing destination, with eight championship golf courses to choose from in the area. Here are the pick of the clubs:
Belek Golf – Carya Golf Club
Opened in 2008 and designed by five-time Open champion Peter Thomson, the prestigious Carya Golf Club imported more than a million sprigs of heather in order to create a spectacular scenic course that gently winds through the pine forests and eucalyptus trees. And the greens are exceptional – so smooth – there is no excuse to miss your putt!
Carya boasts a world class Gold Academy and luxury new Club House and they also offer night time golf and are the first lighted golf course in Europe following a major investment.
Belek Golf – Cornelia Golf Club
Designed by golfing legend Nick Faldo, the Cornelia Golf Club offers 27 holes of championship golf in the form of three loops of 9, with the King, Queen and Prince Courses. State-of-the-art facilities include a driving range, putting and chipping greens, and The David Leadbetter Golf Academy for those looking for a spot of tuition before they try the courses. Watch out for water and fruit hazards on the 1st tee!
Belek Golf – Lykia Links Golf Club 
The Lykia World Golf Resort is a luxury 5 star venue and includes a hotel with sea view rooms, 4 restaurants offering local and international cuisines, plus a range of activities from tennis, football and basketball to canoeing, sailing, and other water sports. There is also a well-equipped gym for guests wanting to stay fit.
Located by the sea, Lykia Links is known as a challenging and strategic golf course, with Perry Dye designed bunkers and stunning sea-vistas, so you'll need to be at your best!
Belek Beaches 
Belek has 16km of Blue flag standard fine white sandy beaches fringed with pines and a popular nesting place for loggerhead and green turtles. Whilst Belek beach is a public beach, many luxury resorts operate just behind the dunes and section off areas of the beach for their guests.
Shopping In Belek
There are lots of small shops in Belek where you can buy essentials and here are some of the best options: 
Shopping in Belek – Belek Street Market 
Head to Belek town center on Saturdays and you will find a lively street market popular with both tourists and locals. Here you will find leather goods – like jackets and handbags –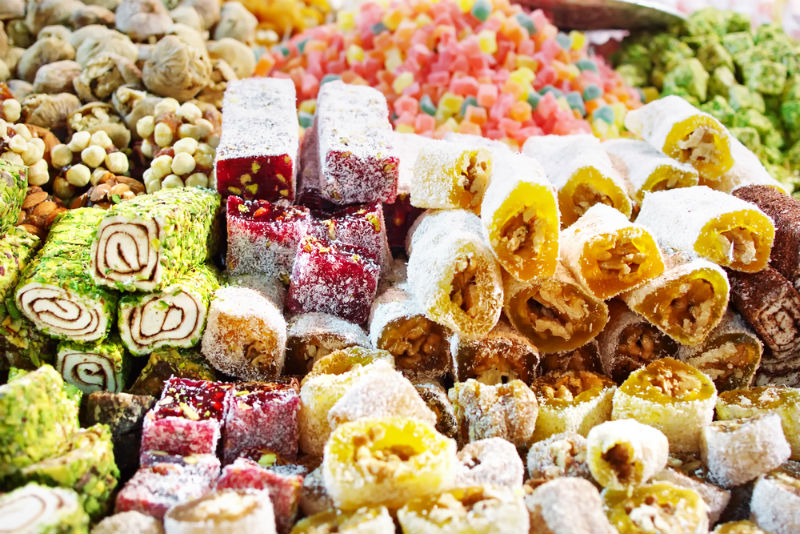 purses, t-shirts, football shirts and souvenirs to take back home to family and friends. There is also a wide selection of fruits, vegetables and spices too, plus nearby cafes and restaurants for when you want to sit down and soak up the atmosphere over a nice cup of Turkish tea.
Shopping in Belek – Belek Supermarkets
Bim is a popular supermarket in Belek, with a good range of groceries. They also sell toys and electronics. And Genpa supermarket can deliver your food if you don't have time to shop. There is Migros, Carrefour supermarkets too with a good range of food stuffs including local and international cheeses.Click here to view luxury Belek villas
Belek Nightlife 
Much of the nightlife in Belek can be found in the resorts, with live music and bars available in numerous 4 and 5 star hotels. Belek is near to other towns, such as side, where you can find many more options.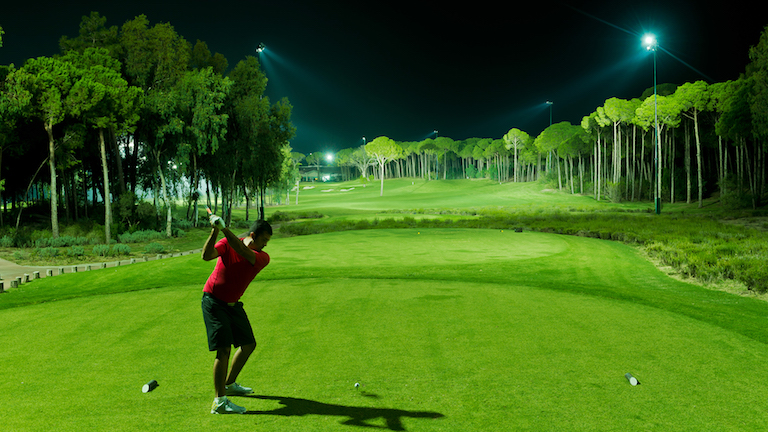 Belek Nightlife – The Gloria Pub
Located at the Gloria Golf All Inclusive Hotel, the Gloria Pub is a popular place with tourists, offering a range of freshly cooked food with outside seating an option. If you enjoy music, then evenings at the Gloria Pub are a must with live bands performing most nights creating a buzzing atmosphere.
Belek Nightlife – The Mambo Lounge 
Head to Belek town centre where you will find the Mambo Lounge, a chilled out restaurant/bar with friendly service serving up tasty cuisine from a menu featuring international foods. Mambo also have a decent selection of cocktails and other drinks and offer free Wi-Fi to customers.
Belek Attractions
There is so much more to Belek than golf, with a wide range of activities and attractions to choose from. A key advantage of Belek is its location as it is near to lots of other places of interest in Antalya.
Belek Attractions – Belek Beach Park
Situated right on Belek Beach, visitors can enjoy lots of different activities from ko-carting and fitness to water sports and there's even a kids playground. Parking is easy with a large car park with many spaces available whilst on the beach you can rent sun beds and umbrellas. Belek Beach Park has plenty of food and drink options with a number of restaurants, bars and cafés, snack and ice cream outlets. There is even a market where you can buy food, clothes, and a variety of souvenirs. Showers are available, to help to wash off the sea salt after a swim, plus clean and tidy toilets.
Belek Attractions – Crassula Spa
Located in the 5 star Corneliar Resort complex in Belek is the Crassula Spa. Facilities include a very large indoor swimming pool, 97 square meters of taiga reflexology way and tropical jacuzzis, three different types of aromatherapy, 2 types of traditional Russian sauna, showers featuring aromatherapy and chromatherapy, and a traditional Turkish bath. There are a number of therapies available including wine baths and some treatments administered using twenty-four carat real gold!
Belek Attractions – Perge
The ancient city of Perge is just a 30 minute drive away from Belek. Perge has well preserved, Roman ruins dating back to 1300BC and a massive amphitheater that is estimated to have sat over 14,000 people. In Perge, one can see the remains of the Roman temple, Roman baths and Roman school buildings, plus the amazing entrance that once stood sentinel to this great city.
There are several tours available to Perge and it is worth doing as guides will be able to impart lots interesting facts about the life of its Roman residents and the clever method of water drainage throughout the city. There are a number of beautiful stone statues, marble reliefs and elaborate carvings that will really give you an idea as to how splendid ancient Perge must have been.
Belek's Most Sought After Districts
Belek's booming golf tourism industry has attracted many foreigners who now account for a lot of real estate owned in Belek. With a perfect climate for golf that offers over 300 days of beautiful sunshine every year not to mention short mild winters it is easy to see the attraction of Belek for those looking to buy a holiday home close to one of the 16 upmarket golf clubs.
Kadriye, Belek – For Peace and Quiet
Kadriye is a village in the district of Serik, Belek and holds the distinction of being the first place to have a golf course in Turkey. It is located a stones throw away from the prestigious Carya Golf club where members and visiting golfers can also enjoy the unique experience of nighttime golf. There is a lovely, sandy beach and small town center home to some excellent local restaurants and bars that are well worth the visit. On Tuesdays Kadriye has a charming market where you can practice your bartering skills!
Kadriye has a number of new build villas and apartment complexes that are attracting investors and second home-owners alike. There are excellent rental opportunities and from the all year round golf tourism.Click here to view new build Kadriye, Belek villas.
Belek Center – Its All About location, location, location! 
Central Belek is a popular residential area as typically you are no more than 300m to the town center and only 800m to the sea and beach. Many residents like the fact that they can walk into the town center in just a few minutes to buy their milk and papers, or enjoy the Saturday street market.
There are many boutique residential complexes – some with excellent facilities such as a swimming pool, fitness salon, sauna, and parking – with close proximity to the center and near to some of Belek's superb golf courses.
Click here to view Belek Golf apartments
 We also offer Belek property inspection trips where we can show you the key residential areas and a range of Belek properties that meet your budget and requirements.
Please contact us to request a call back or enquire further about our Belek property inspection trips.