Bursa City Area Guide
Bursa is the 4th most populous city in Turkey, with over 2 million inhabitants and was the first capital – late 1200s-early 1300s – of the Ottoman Empire famous for its export of silks and textile goods. Located in northwestern Anatolia, within the Marmara Region. The soaring peaks of Mt Uludağ provide a spectacular backdrop and this is where you can also find Turkey's premier ski resort. All of which helps to make Bursa a major tourism center, along with other attractions such its natural thermal baths. There are also a number of lakes some of which offer waterfront living.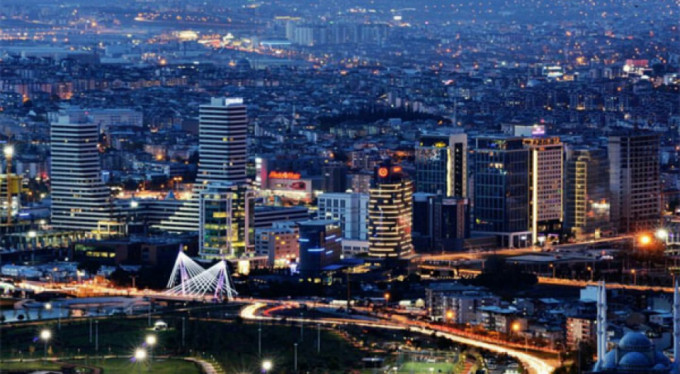 As well as being a centre for tourism, Bursa is also an industrial hotspot and the heart of the Turkish automobile industry, with Renault and Fiat both producing there. Textile and food production are equally strong making, the local economy extremely buoyant. Bursa does a good a job in blending its modernity in with its history as the first Ottoman capital, with mausoleums, mosques and other ancient buildings creating an urban mosaic of colour and difference. Bursa also has a lot of parks and the abundance of green spaces make it an attractive place to live.
Food is something Bursa is also famed for with the traditional Iskender Kebap originating from this ancient city, and you'll find many excellent local restaurants serving this local specialty up.
Bursa has an excellent transportation infrastructure, with Istanbul just over an hours drive away and also has an international airport plus ferry services too.
Modern Bursa is home to a growing segment of affluent, university educated workers making this area prime for property investors. Throughout the year, Bursa hosts several international dance, film and music festivals too, adding to its reputation as a city of art and culture.Bursa luxury properties for sale
Bursa Beaches 
Bursa offers quick and easy access to the many picture perfect, natural wide beaches along the Marmara Sea and are usually just around an hours drive from Bursa.
Deniz Feneri Beach
An easy drive down the 0-5 highway from Bursa, this is a narrow, sandy beach with a beach club and excellent facilities, including restaurants, sun beds plus umbrellas, showers, clean toilets and a whole range of water sports activities to choose from, including jet biking and boat hire.
Eşkel Plajı Beach 
Just under an hours drive from Bursa, this is a fine sand beach with crystal clear waters. There is a blue cycling track that runs parallel with the promenade just behind the beach, and there are plenty of sun beds for hire.
Karacabey Bogazi Beach 
This is a quick drive down the E881 and can be done in under 60 minutes from Bursa. Karacabey Bogazi beach is sandy and fringed with pine trees in places.Bursa sea view apartments for sale
Shopping in Bursa City 
Bursa has a bit of everything from the latest high tech shopping malls, for the discerning shopper, to old world charm with a number of bazaars selling all manner of commodities.
Koru Park Shopping Mall, Bursa 
Opened in 2007, this multi level shopping mall boasts 156 stores selling a variety of international brands like Zara, Benetton and Adidas, 29 restaurants and a 9 screen cinema.
Podyum Park Bursa 
Situated in a residential neighborhood just a stones throw from the busy Sultan Mehmet Boulevard an oasis of shops and entertainment awaits. Opened in 2015, Podyum Park has open-air dining, air conditioned shopping, and an entertainment centre including a multi screen cinema. On-site too are an aqua park, ferris wheel, skate park, basketball court, a walking track and, for much later in the day, a nightclub.
Covered Bazaar (Bedesten) Bursa
At the heart of Bursa's old bazaar district is Bursa's permanent covered bazaar offering an authentic selection of carpets and silks plus many other kinds of product including spices, fruits and vegetables. The covered bazaar is connected to lots of narrow streets containing other "hans" or markets many, of which are also covered to protect the shoppers from inclement weather. Whilst not as mega as Istanbul's Grand Bazaar it is still well worth a visit.Bursa city apartments for sale
Bursa City Nightlife 
Bursa offers an exciting mix of cool clubs, hip cafes and authentic restaurants from by the sea to inner city locations.
Club Inferno
This nightclub has a very large dance floor with the latest sound system plus international and local djs keeping the mix going. There are live dance shows too and themed party nights. It is advised to book a table in advance if you're planning to sit, and wish to have drink and a few snacks.
Koza Han, Bursa
This Koza Caravanserai dates back to the 15th century is a beautifully contrived marketplace with lots of colour and bustle. Evenings are prefect to take a seat at one of the many cafes and enjoy a Turkish coffee, or sweet apple tea, whilst admiring the beauty of the historic facades.
Kitap Evi Hotel Restaurant And Café
This charming character building has a romantic and cute garden, with an ottoman style fountain, pond, plants and flowers plus a terraced area for outdoor dining. There are amazing views out over the covered bazaar and garden, and the food is great too!Bursa villas for sale
Bursa Attractions 
Bursa has a huge amount of things to do from tours, specialty museums and historic sights, to Turkish baths, skiing and shopping, Bursa really does have it all!
Bursa Teleferik 
The stunning Bursa Teleferik connects the city of Bursa with the nearby ski resort area and national park at the snowcapped Uludağ mountain. The line is 8.8km long and the final station is at an altitude of 1,870m. The whole journey from start to finish takes around 22 minutes. On a clear day the spectacular views of Bursa in its entirety van be had, with the sea and coastline clearly visible too.
Uludag Ski Center, Bursa 
Between December and May, Uludag mountain is covered by a blanket of snow often exceeding 4m of depth, making it highly popular for skiing and snowboarding. Most of the routes are quite wide and the resort is very well equipped.
It has slopes suitable for beginners and for the intermediate and advanced there are red and black slopes. Lots of cafes and restaurants too serving up an international choice of food and drinks.Bursa mountain property for sale
SoganlI Botanik Park
Bursa has lots of parks and this is one of the best. The air is clean, you can hire bikes, there are lots of seating areas, hundreds of different flowers, plants and trees and on-site facilities including restaurants and cafes. A great place to escape from the city for an afternoon and chill.Bursa city apartments for sale
The Most Sought After Districts in Bursa City, Turkey 
Historic and modern Bursa is becoming increasingly popular with Arab investors who are purchasing Bursa property for sale as second homes or holiday homes. There is much to do in and around Bursa with fast transportation links to Istanbul and the Turkish coast. 
Bursa City Centre
This is an ideal location for those who are looking to relocate to this all year round city, with many new build Bursa apartments for sale offering on-site facilities such as swimming pools and fitness centres. Being in Bursa City also puts you right in the mix of the hustle and bustle, and right on the button for lots of authentic restaurants, bars and cafes.
Mudanya, Bursa 
Mudanya is a province of Bursa that sits on the Marmara coast and has a port with fast ferry links into Istanbul. Mudanya has a full range of excellent of facilities from large shopping malls and good mix of restaurants and cafes, to schools and excellent transportation links. Mudanya is a popular area in which to own a holiday home.Mundanya Bursa property for sale
Nilufer, Bursa 
Nilufer is a relatively new district of Bursa and was established in 1987 and has become the main residential area of Bursa. The city centre is just 10 minutes away and Nilufer has excellent facilities including a large shopping mall. There is lots to do in and round Nilufer, hence its popularity with families.Nilufer Bursa property for sale
Osmangazi, Bursa 
Osmangazi is a large residential district of Bursa and just a 10 minute drive into Bursa city centre. It is a popular area with families with a number of new build Bursa apartments for sale with amazing facilities available at bargain prices. There are excellent transportation links providing a whole range of day trips from Istanbul to snowing in the nearby mountains.Osmangazi Bursa apartments for sale
Gemlik, Bursa 
Gemlik is situated on the coast of the Sea of Marmara and is just a 20 minute drive into Bursa city centre. It is a sought after area due to the stunning sea vistas on offer. Gemlik also has a full range of facilities with supermarkets, cafes, restaurants and schools. This is a suitable option for those who don't want to live in the city but would like quick and easy access to it.Gemlik Bursa sea view apartments for sale
Kestel Bursa
Kestel is only a 25 minute drive from Bursa town centre and is a developed district with all the facilities. It is a popular residential area due in part to a number of high quality, new residential complexes that are modern and contain rich facilities includes swimming pools, landscaped gardens and secure parking.Kestrel Bursa new build apartments