Fethiye – pronounced feh-tee-yeh – is a prosperous hub on the Turkish Mediterranean coast, part of the Mugla province, and a key centre for gület (Turkish yacht) cruises.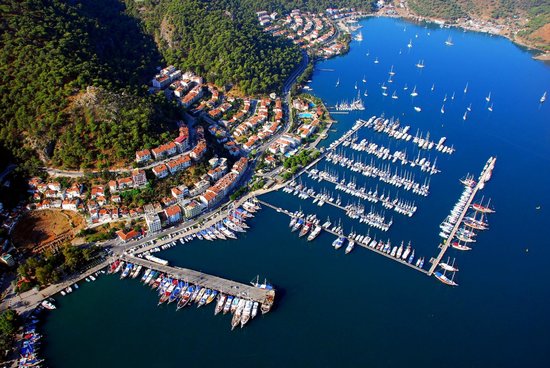 Modern Fethiye resides on the site of the ancient city of Telmessos, with many ruins still visible in the city today, such as the Hellenistic theatre by the main quay. Fethiye has been home to a number of civilizations including the Byzantines, Ottomans and Persians making it a melting pot of culture, religions and languages not to mention an ancient trading centre.funky fruits slot play online betonline casino
Fethiye is known for its natural beauty, helped in part due to restrictions on high-rise buildings
The beautiful natural harbour at Fethiye is probably the best in the region, and fits nicely into the southern reaches of a wide bay pitted with pretty islands, including Şövalye Island, which stared briefly in the James Bond film Skyfall.funky fruits slot play online betonline casino
From Fethiye you can also visit nearby Ölüdeniz, one of Turkey's premier seaside destinations and home to the world famous Blue Lagoon. The surrounding countryside also offers up some breathtaking vistas, especially in Uzumlu, which is much like the Cotswolds in the UK. Another interesting area is the ghost town of Kayaköy – also known as Levissi – where a few houses have now been restored and tours now run to.
And Fethiye also hosts some fabulous events including the Fethiye Culture and Arts Festival. Spread over 4 days every May, this is where you can enjoy local artists, bands, musicians and actors who put on a schedule of performances at venues across the region. And then there are the professional Oludenez Air games, held for a week every October. Events include skydiving, base jumping and more, with shows and displays taking place over the Babadag Mountain and on Olu Deniz's beach.
Fethiye Town is an all year round town as the region does not rely on tourism only, but has a booming agricultural industry too. The town has a full range of amenities including a weekly market which is very popular with locals and visitors alike.Property for sale Fethiye Turkey
Fethiye Beaches 
Fethiye has a wealth of stunning beaches to choose from all long its famous turquoise coast, so called due the vibrant and different hues of sea colours. 
The Blue Lagoon
Located 5.3km in nearby Oludeniz, the Blue Lagoon is a naturally formed shallow water pool, with variances in colour from turquoise to aquamarine. It is highly scenic and has a sandy beach. There are restaurants and cafes on-site and you can hire sunbeds by the hour. It gets very busy in the summer but is a must see!
Calis Beach 
Calis beach is around 7km west of Fethiye town centre. The beach is a mixture of pebbles and sand stretching for 4km. The beach has a long promenade long which are a variety of restaurants, pubs, bars and hotels offering international cuisine options. There is a small shopping street nearby with local shops should you need to buy a paper or feel like a quick snack.
Calis beach attracts a regular nightly crowd to watch the spectacular sunsets across Fethiye Bay and Sovalye Island, which is in the middle of the bay. There is an on-site wind surfing and kiting school as both sports are popular activities on Calis Beach, due to the cool breezes, which are perfect on hot summer days and nights.
In July and August the average daily temperatures often exceed 32 degrees whilst the temperature drops to a more mild 10 degrees in the winter months.
Calis Beach is famous for its giant, friendly Caretta turtles who come there in the nesting season.
Kuleli Beach 
Kuleli Beach is a white Sandy Beach and, if you are looking for a beach with facilities, then this is the place to head to! Kuleli Beach has BBQ facilities, so you can cook your own lunch under the sun with friends and family, there are hammocks and vitamin Bars, restaurants and cafes . The beach park includes a children's entertainment area and there's lots of space in the car park. They also have showers, clean toilets and sunbeds.
The water quality is excellent, transparent, clean and very calm making it the prefect spot for families who are looking for safe swimming. There are also cabanas on the beach too, plus a grassy area with bean bags. Access to the beach park is down a cobbled, tree-lined footpath.Calis beach apartments for sale Turkey
Shopping in Fethiye 
The big advantage with Fethiye town is that it is an all year round town that doesn't close in the off-season. This is because the region has a booming agricultural industry and does not need to rely on tourism. The town has lots of local shops and supermarkets. The old area of Paspatur is also popular with its maze of narrow streets and alleys. This is where you can buy genuine, hand woven carpets and quality leatherwear.
Fethiye Market 
Fethiye market is every Tuesday and opening times are generally from 9am through to sunset. It is located by the canal and football stadium and easy to spot, with the white canvass roofs of the stalls clearly visible.
There is a wide range of fruit, vegetables, herbs, nuts, cheese, eggs and olive oil – as you would expect given the regions agricultural focus – with most vendors happy to allow you to taste first before you buy. And there are many stalls selling a variety of clothes – including children's clothes – such as jeans, leather jackets, trousers, coats, belts, handbags and purses. You can also find house hold appliances and electronics, all at incredibly low prices.
And there are a number of open air cafes too, perfect for a pit stop to soak up the market's atmosphere over a cold drink or cup of sweet Turkish tea. 
Erasta Shopping Centre, Fethiye 
This is a large, modern, indoor shopping centre with air conditioning over 2 floors. There are over 60 shops, a supermarket plus a children's entertainment area featuring lots of rides plus a very big toy shop. There are 3 coffee shops, including a Starbucs, plus a food court with KFC, Burger King and lots of local restaurants. The entertainment centre includes a cinema and bowling.
Erasta Shopping Centre is easy to find and is right by the Otogar bus station.
Servet Turkish Delight Factory 
Well it has to be done, doesn't it? Situated in the old quarter of Paspatur and opened in 1987, this charming Turkish delight factory is a family run and they will insist you try anyone of their more than 150 diffrent types of Turkish Delight before you buy. You are given a box to create your own, personalized selection or you can purchase pre-made boxes. They even have chili-chocolate Turkish Delight! Apartments for sale Fethiye Turkey
Fethiye Attractions 
Fethiye's rich history means it has lots of antiquity on offer, from ancient ampi theatres to temples and tombs, whilst its coastal location is home to one of world's greatest natural wonders – the Blue lagoon. The extensive and scenic Lycian coastline is also ideal for sailing and discovering the many hidden coves and beaches. 
Lycian Rock Tombs, Fethiye
Sitting high above the town and easy to spot, The Lycian Rock tombs in Fethiye are stunning ancient tombs carved into the side of a mountain so, legend has it, that angels could reach the dead. From below they look like entrances into a number of ornately carved temples, but are in fact the brilliant facades of these ancient lycian tombs.
A number of steps take you up to the tombs and the most impressive and the highest one is the Tomb of Amyntas, built in 350BC, and you can enter its spacious interior. But don't expect too much inside as years of looting have left it as an empty space.
Saklikent National Park, Fethiye 
This breath-taking national park is around 50km from Fethiye and makes for a great day trip due to its spectacular scenery. It has one of the deepest canyons in the world at 980 ft deep and 18km long, and there is a special walkway though part of the canyon where you can see fast flowing streams and natural waterfalls. You can do rafting as well, plus there are hiking tours available too. The steep cliffs of the gorge are multi-coloured and have an ethereal quality at sunset.
There is a decking area by the river where you can stop for lunch, with cafes and restaurants at the park's main entrance.
Tlos, Fethiye
Tlos is a ruined Lycian hilltop city around 36 km from Fethiye. It's a bit of a hike to the top but well worth it if you are in to your antiquity, with an ampi-theatre too that is still being excavated.
It is one of the largest and oldest settlements of Lycia and was dominated by an acropolis and fortress. Tlos was also inhabited by the Romans, Byzantines and even the Ottoman Turks – who all added to its infrastructure – from public baths to formal buildings used to house the cities administrators.
The surrounding scenery is a lovely mix of pomegranate trees and fields and its easy to image just how much the ancients must have enjoyed living in this area.Fethiye property for sale
Fethiye Nightlife 
There is lots of nightlife around the bars in the Paspatur (Old Town) with more options in nearby Hisaronu and Calis.
Grand Boozey
This is a well know bar in Hisranu just 13km from Fethiye. When it comes to nightlife, Hisaronu has a reputation for being among the best in the region. You'll find most of the biggest clubs along the main street.
Grand Boozey is a place where you can club in the open air, drink well-crafted cocktails and generally party away and have a great time.
Curry Palace Indian Restaurant
Located on the promenade, Calis Beach this a popular restaurant with expats and also offers rooftop dining overlooking Calis Beach. The menu is just what you would expect from a good Indian restaurant with prices on the bargain side.
Mozaik Bahce 
For tasty, traditional Turkish cuisine then the authentic Mozaik Bahce restaurant is an excellent option, with meals expertly made using only the freshest ingredients. The mezzes, humus and mixed grill dishes are specialities served up by welcoming and professional staff.Villas for sale Fethiye Turkey
The Most Sought After Districts In Fethiye 
Fethiye Town 
Fethiye Town has a number of residential areas just outside the main town centre and within easy walking distance of shops, restaurants, cafes, the old town and markets. Access to neighbouring towns is easy with regular dolmbus services and taxis. Fethiye Town is an all year round town so ideal for permanent living.
Deliktas, Fethiye 
Situated on the outskirts of Fethiye and surround by nature, Deliktas is a popular suburb of Fethiye with a community made up of both Turks and ex-pats. Fethiye town centre is just a 5 minute drive away and there are a good choice of local shops, bakeries and restaurants.
Akarca Fethiye 
Located just a few minutes walk from Fethiye seafront, this is a sought after Fethiye neighbor hood due to its central location and proximity to the town centre and amenities.
Tasyaka Fethiye 
Tasyaka is an authentic residential area on the outskirts of Fethiye offering an elevated position offering stunning vistas out over the town and Fethiye Bay. Local amenities include shops, supermarkets, cafés, restaurants and public transport, whilst the large and modern Erasta shopping mall is just minutes away by car.
Seydikemer, Fethiye 
This is the perfect location for those who enjoy a bit of peace and quiet surrounded by beautiful countryside. The village of Seydikemer is around a 30 minute drive from Fethiye town but has its own village centre, with shops and restaurants. 
Calis Beach, Fethiye 
Calis is a popular seaside resort easily visible across the bay from Fethiye town which is only a 5 minute drive away. Calis offers all year round living so is ideal for relocation and permanent living, or to have a holiday home. It is also perfect for investment property, due to the abundant rental opportunities and the desirability of the area.
Calis property for sale is sought after due to its sea views and spectacular sunsets. It is also easy to get to and is just a 47 minute drive to nearby Dalaman International airport.
Two beach front locations in Calis are Ciftlik and Foca Mahallesi, and this where you will find Calis sea view apartments. Koca Calis is another sought after neighbor hood, situated at the western end of the promenade, that also offers spectacular beach and sea vistas.
Prices for Calis real estate are very reasonable with 2 bed apartments starting at GBP50,000 and villas at around GBP90,000.
Uzumlu, Fethiye
Uzumlu, which means "grape" in Turkish, is a charming village approximately 30 minutes drive from Fethiye town that has outstanding countryside and mountain vistas. Here, the air is fresh and most residents in Uzumlu have a villa. Bespoke villa builds are quite common in Uzumlu and offer value for money, with good parcels of land available. Needless to say most of the villas in Uzumlu have large pools with decking areas for BBQs and sunbathing.
Uzumlu has small village square with a wine shop/café and grocery stores. Fethiye Town is just a 21minute drive away and on the dolmbus routes.
Ovacik
Peaceful and traditional Ovacik village is located in a valley near to Turkey's beautiful Aegean Coast and is part of the Fethiye district. This small resort town has magnificent views of the nearby Babadağ Mountains, and access to hidden coves and ancient ruins, all of which make up the beautiful, natural scenery of this green and leafy area. People tend to buy Ovacik property for the views and peacefulness of the location and easy access to beaches such as the world famous Blue lagoon – just a 10 minute drive away – and Fethiye Town can be reached in a matter of minutes too.
Hisaronu 
Hisaronu has the reputation of being one of Fethiye's most liveliest districts and has a main street filled with all manner of shops, restaurants, cafes and bars. In the high season the main street is closed to traffic in the evenings, which makes for a wonderful atmosphere. Hisaronu is very near to Oludinez beach and the Blue Lagoon and is on the dolmbus routes.
Hisaronu enjoys an elevated position at the foot of the Babadağ Mountains, so the air quality is excellent and there's lots to do from hiking to paragliding.
Hisaronu tends to move with the seasons meaning its full in the summer months but quite empty in the off season winter months, so really only good for the short term rental market.
Gocek, Fethiye
Gocek is an upmarket town located on the outskirts of Fethiye dotted with an archipelago of beautiful islands, and is an international luxury yachting center with five first-class marinas and moorings for hundreds of boats.
Luxury Gocek villas command premium prices and often come with beautifully landscaped gardens with the sent of the nearby pine forests, and azure sea and mountain vistas.
Gocek town is self-contained with a number of classy boutiques, shops, supermarkets, restaurants and cafes plus a 5 star hotel with its own private beach.
Fethiye Town can be reached within 30 minutes and Dalaman International airport is just a 28 minute drive away.
If you like sailing and enjoy living in a refined, upmarket environ then Gocek is for you.Luxury villas for sale Gocek Turkey