Kalkan Area Guide
Kalkan is a town on the Turkish Mediterranean coast, and a popular tourist destination. The area has a rich historical past and one of the world's best beaches.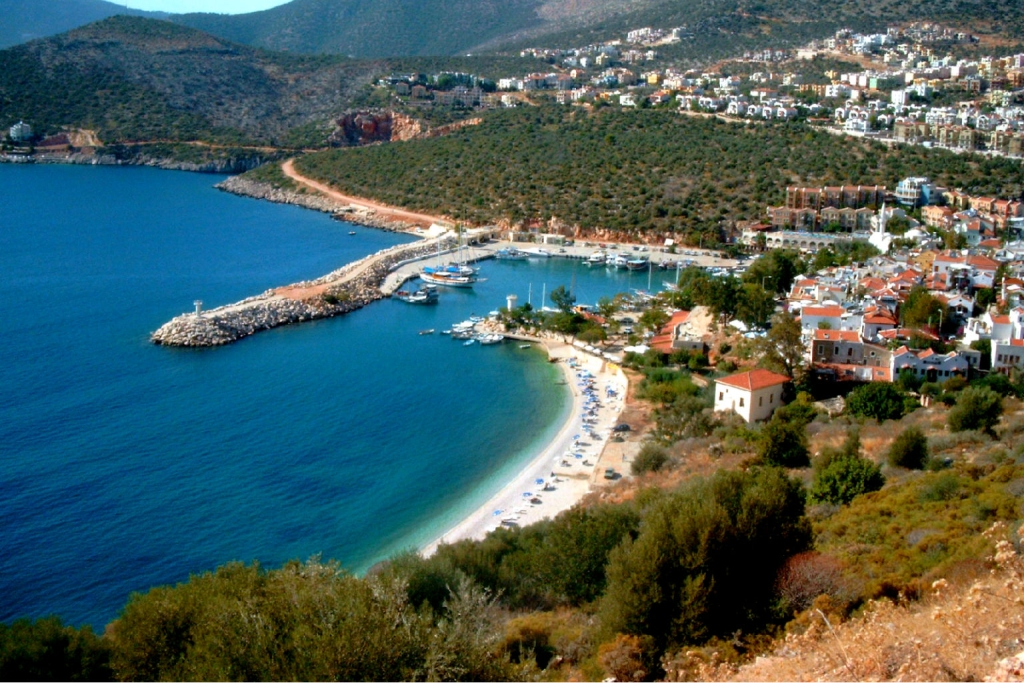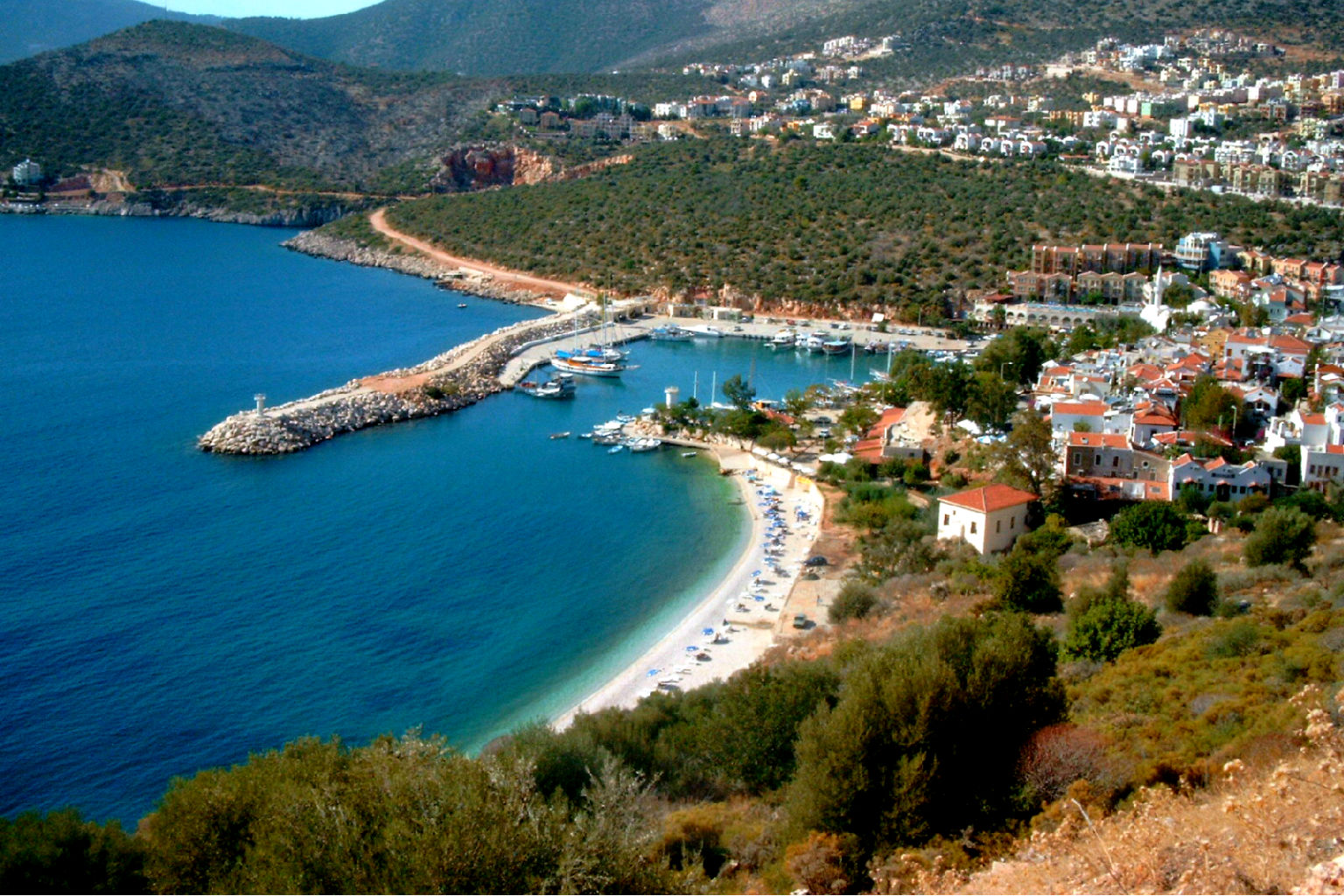 This charming seaside resort started out as a picturesque, idyllic fishing village, and is now a mixture of traditional Turkish charm and contemporary apartments, villas plus upmarket hotels. Wander around the narrow streets and you'll see vibrant coloured shops, cafés, and restaurants with spectacular sea vistas. Forget about finding fast food outlets in Kalkan. Discover instead many intimate tavernas and restaurants, serving up mouth-watering Turkish cuisine.
There is also much antiquity nearby where you can spend time visiting some of the finest Roman ruins the region has to offer, whilst adventure junkies can go kite-surfing, quad-bike across the sands, horse-riding at dusk, take boat trips along the scenic coast, or relax and sit back in a rejuvenating mud-bath at the nearby springs. You can, of course, spend your time on one of Kalkan's famous sandy beaches and simple take in some sun or cool off in the blue sea.
The nearest international airport is Dalaman – also known as Mugla Airport  and is only around 1 hour 30 minutes' drive from Kalkan through pleasant agricultural scenery.View luxury Kalkan Property
Kalkan Beaches, Turkey 
When it comes to beaches, you're spoilt for choice in and around Kalkan on Turkey's sun blessed Mediterranean coast. Here are 3 of the best:
Patara Beach, Kalkan, Turkey
Voted as one of the world's best beaches in 2005, Patara Beach is a 12 kilometre-long stretch of fine white sand, fringed with golden sand dunes and part of a national park. The area is home to a rich biodiversity and is a favourite nesting ground of the Loggerhead turtle. Patara Beach is only a 20 minute drive from Kalkan town. Whilst any building developments are strictly controlled to the point of being non-existent you will find a rustic bar/restaurants with showers, a changing area and toilets.
Kaputas Beach, Kalkan Turkey
Make sure you're in the mood for some light exercise as to access Kaputas Beach you'll need to traverse around 200 steps which lead down from the road. Ideally located between Kalkan and Kas, this stunning beach is formed by a gorge with vast expanses of golden sand stretching off in either direction. Kaputas Beach does not have much in the way of facilities, probably because its not easy to get to. But the peace and quiet, with the gentle background of waves lapping ashore, is all part of its charm.
Kalkan Beach, Kalkan town, Turkey
Kalkan beach is a white pebbly beach and its main selling points are the incredibly transparent water and the fact that, for most of the time, the sea here is very calm. This makes Kalkan Beach ideal for families with young kids to enjoy a swim and the quality of its water has seen it awarded Blue Flag status. Kalkan beach facilities include food and drink options plus toilets, whilst Kalkan town can be walked to in a matter of minutes.
Another allure of this intimate beach are the horizon filled sunsets, see it once and you'll want to see it again!Click here for Sea view villas Kalkan, Turkey
Shopping in Kalkan, Turkey 
Most of the best boutique shops can be found in Kalkan itself with lots of small gift, jewellry, clothes, leather handbags, purse, leather shoe shops, carpet bazaars, and antiques' outlets all to be found on the winding, cobbled streets amidst the white washed houses.
Kalkan Market 
Held every Thursday, Kalkan market is just what you would expect a Turkish market to be like, bustling with locals and tourists, smells of spices mingling with fresh fish and vegetables, vendors beckoning you to stop and share a cup of Turkish tea. Market day in Kalkan is a real occasion, as villagers from outlying towns set up stall to sell a variety of goods from quality, fake internationally branded apparel and watches to a large household goods section where you can find almost anything! 
Nightlife in Kalkan, Turkey 
Kalkan's old town has a number of vibrant bars, cool cafes and intimate roof top restaurants to while away the hours in. And harbour side bars tend to stay open until the last customer leaves so no need to hurry your drink! There are some club/bars too which, whilst not big, are still excellent venues to enjoy.
There are live music bars too playing a variety of sounds and there's enough choice to keep most people happy. The small sized dance floors make for an intimate evening whilst many of Kalkan's hotels also offer themed nights, often featuring local dancers, complete with sumptuous buffets.Click here for penthouses Kalkan, Turkey
The Shade Lounge Bar – Nightlife in Kalkan, Turkey 
This atmospheric old town bar has comfortable, outdoor seating atop the cobbled streets and a well reviewed cocktail menu. Snacks are available too, all served up by attentive and friendly staff.
The Mojito Lounge Club – Nightlife in Kalkan, Turkey 
A visually striking club with lots of colour, well made cocktails, good vibes and a friendly crowd. There are booths plus outdoor seating, all in a swanky setting!
Botanik Garden Bar – Nightlife in Kalkan, Turkey 
This bohemian styled garden is set in what feels like a fairytale garden, with beautifully scented flora and fauna. Patrons can gently swing in hammocks sipping on the latest cocktail concoption to a selection of random soundsClick here for sea view Kalkan villas
Kalkan, Turkey Attractions 
Kalkan has many different attractions from antiquity to beach clubs!
Kalkan Beach Park – Kalkan, Turkey attractions 
Kalkan Beach Park is just a 10 minute drive from Kalkan centre, and they offer a free taxi service during the season. Once there, you'll find a variety of water sports to enjoy from jet biking and para-gliding to snorkeling and sloshing down a curving water slide into the sea! An extensive decking area holds a lovely restaurant with table service and beautiful sea vistas. This is a great place to watch the sun go down.
Ancient Xanthos – Kalkan, Turkey attractions
Just 17 km from Kalkan, and dating back to the 4th century BC, Xanthos was the capital city of the Lycian Federation and its greatest city for most of Lycian history. Ruins include an acropolis, many city buildings and walls. This is a must visit for anyone interested in ancient history!
Try Some Trout! – Kalkan Turkey attractions 
Kalkan is famous for its fresh trout. If you follow the circular drive from Kalkan inland, and follow the sign posts for the traditional farming village of Bezirgan, then onto Islamlar, you can enjoy lunch at one of the famous trout restaurants. it's a great experience, not just for the fresh food, but for the amazing sea views.View sea view properties, Kalkan Turkey
The Most Sought After Districts in Kalkan, Turkey 
It takes a while to drive to Kalkan from the nearest international airport which is probably why its not over run with tourists. Kalkan's foreign residents love living here due to its authentic look and feel and relaxed way of life.
Ortaalan, Kalkan Turkey. 
Ortaalan is probably Kalkan's most sought after district due to the panoramic sea views it can offer and dual aspect vistas over Kalkan Bay and Kalamar.View luxury Ortaalan Villas Kalkan
Kalkan Centre 
Kalkan centre is a firm favourite as a residential area, due to the spectacular sea vistas on offer and the easy access to the old towns cafes, restaurants and boutiques.View Kalkan old town property
Kalamar, Kalkan Turkey 
Kalamar Bay is next along the Mediterranean coast from Kalkan Bay and within easy walking distance of Kalkan old town. The upmarket Kalalmar Beach Club is popular amongst residents and the Kalamar Bay area is home to some of Kalkan's most stunning villas. Kalamar offers exceptional sea and mountain views and enjoys great facilities.Click here for Kalamar Villas Kalkan